BHRW SWEDEN20081006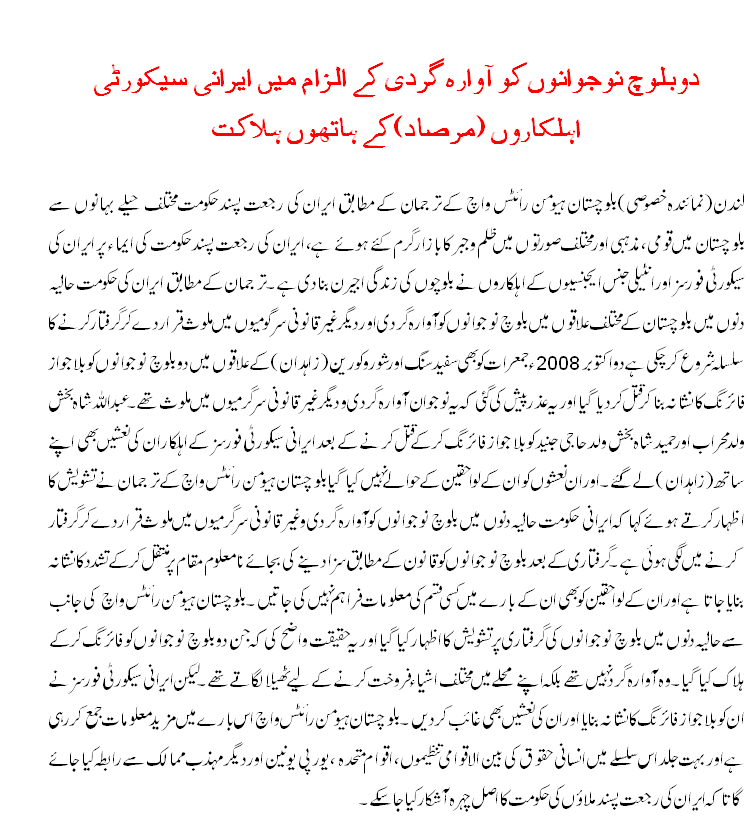 Balochistan Human Rights Watch: Iranian regime's Mersad (security) force killed 2 innocent young Baloch in Zahedan calling them harmful and rough persons.
According to reports from the members of Balochistan Human Rights Watch, Mersad (Iranian regime's security) force killed 2 innocent young Baloch, ''Abdullah Shahbaksh son of Mehrab'' and ''hamid Shahbaksh son of Haji Jiand. They were characterized as harmful and rough to the society norms. The killings took place Thursday 02 october 2008 in Sapid sang'' area which is suied west to ''Shouro''in Zahedan. Their bodies were transferred to Zahedan.
Balochistan Human Rights Watch condemns vigorously and strongly this unhuman act, and is preparing and gathering the necessity documentation and background in order to address the international human rights watch groups and organisations about the case.
According to the reports from pro-iranian regime's news agencies (1)and the regime's own agencies, tens of young baloch have during the last 2 weeks been arrested by regime purely with reference to having harmful character. Some of them have been released while many are still in custody.
Unlike the reports announced by the regime, local sources, amongst ''Abu Ammar's diary'' (2) which has been in contact with some of the prisoners, have announced that all prisoners are youngsters and rather children belonging to the families having extremely low income. Therefore they contribute with the financial support to their families by selling banana and mango on the street. They have been attacked suddenly by the regime's forces and arrested consequently while the forces broke the hand of one of the children.
When mothers of these children tried to contact the relevant authorities about their children, they were threatened, and later after some hours, some of the children were released while some are still in the prison.
Balochistan Human Rights Watch / Radio Balochi FM
2008-10-06
1.
http://sb.isna.ir/mainnews.php?ID=News-18766
2.