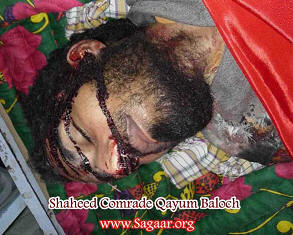 Baloch Student Organization (Azaad)'s Central Committee member Qayum Baloch has been torture murdered by Pakistan. Qayum Baloch was abducted on 11th of December by Pakistan army from his house in Gawader and kept in detention by Pakistan army for 61 days, these days his whereabouts were not told to any one and during these days he was severely tortured, which his body bore signs of. Qayum Baloch's tortured body was thrown in Heronk, Turbat.
Qayum Baloch, Central Committee member of B.S.O. (Azaad), was associated with B.S.O. for more than 8 years, joining the organization in an early age. He was a main figure of the revolutionary and pro independence politics in Gawader, where his contribution in failing the attempts of occupying Pakistan and its ally China to organize a mass migration in the city which Qayum Baloch belonged to. His struggle caused Pakistan to lose its major investments made to exploit Balochistan, hence bringing Pakistan to agitation and hatred, which it took out in severely torturing the student political activist. Qayum Baloch was also an active social worker and an advocate of human rights, a friend to almost every resident in his home city, Gawader. Protests are being carried out throughout Balochistan against this murder, whereas B.S.O. (Azaad) has announced a protest schedule against the torture murder strategy of Pakistan.
Apart from this murder, another body was found in Heronk, which was identified as Jameel Yaqoob Baloch, who was abducted by Pakistan on 28th of August 2010, from Turbat. Jameel Yaqoob Baloch was a labor, working on wages to help his family. His body was severely tortured as Qayum Baloch's was.
Qayum Baloch's murder certainly leaves serious questions on the willingness or ability of the international peace makers to bring an end to the human rights abuses in Balochistan. Baloch Student Organization (Azaad) believes that each of its activist, along with the support of the Baloch masses would continue the struggle of Kamber Chaker, Qayum Baloch, Sohrab Marri Baloch, Sami Baloch, Bebagr Baloch, Zahoor Baloch, Abid Rasool Baloch, Asim Kareem Baloch, young Majeed Baloch, Sikander Baloch, Junaid Baloch, Ilyas Nazar Baloch and all other prestigious names who have sacrificed their lives for liberating their motherland and to create a society where justice and equality prevails.