Nowadays reports of under detention killings of Baloch youths received from different parts of Balochistan are highly disturbing, these report are promptly confirmed because of easy availability of electronic media and mostly believed in general public, because, given the volatile situation of Balochistan, anything is possible. But international media is not being allowed to inter Balochistan for assessing the grave situation what is going on in that part of world and the Journalists related to local media are high targets of Pakistani state sponsored terrorism.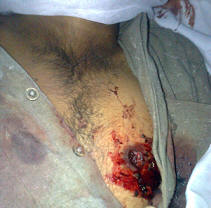 Baloch armed guerillas forces have now increased their attacks on Pakistani occupying forces across Balochistan. In response, the frustrated ultra-nationalist Punjabi generals and bureaucrats have now adopted a counter strategy of abduction- kill and dump of soft targets. This is to prevent the energetic part of Baloch society, the youths from joining the Baloch national movement. And being more sinister, the teachers, students and Journalists are also its prime targets to deprive Baloch society of its literati.
The president of Khuzdaar Press Club, Mohamd Khan Sasoli, has been gunned down in the close vicinity of his house by unknown motorcyclists, when he was returning back home after finishing his duty from Press Club. The 36 years old Journalist was a father of a son. It is noteworthy here to mention that Mohmad khan is the first Journalist became the victim of target killing after the under detention tormented killing of Lala Hameed, a Journalist was based in Gwader city, who was found dead with marks of tortures on his body in a deserted place along with his friend Ismail.
Yesterday, tortured bodies of five missing persons were found in desolate areas of different districts and cities, from Mand town Raziq Lateef, from Khuzdaar city Ibrahim Husni and Noora Baloch, from Tump district town Yousif Baloch, and from Karachi city Saifulla Bugti. And yesterday, as I was writing this article I received a call from a reliable source that said tortured body Huda e Rahim a political worker from Quetta, his body was found in a deserted area on Quetta-Taftan road with a notice in his pocket which read "Bangulzai was a friend of Ali Sher Kurd and belong to BLA. He has received his punishment and others like him will also meet the same fate" claimed by a previously unknown organization, "Mujahdeen Balochistan". It has been observed that Baloch resistant forces are targeting Pakistani army and its installations.
Yet the state sponsored terrorist organizations, Lashker e Jangvie, a much closed affiliate of Talban, lashaker e Taeyaba and Al-Qaida from Jumiet e Ulmae Islam side, is said to be involved in the target killing of teachers, journalists and political workers in Balochistan at the behest of Pakistani state agencies and Punjabi army.
Baloch Musaleh Defie Tanzeem, a pocket organization of Pakistani political establishment, tasked with the responsibility of particularly targeting those Baloch Journalists and political workers, who are outspoken of Pakistani state policies regarding the Baloch national question in the historical perspective.
Pakistani state has changed the commander of its occupying forces in Balochistan. Gen Salim Nawaz, a Punjabi ex corps commander of FC in Balochistan, who, under the command of Gen Musharraf had carried out the genocide of Baloch youths and martyred Nawab Akber Bugti, has been replaced by a Pashtun mercenary general from Khaiber Pashtunkhowa province , Gen Ubaidullah Khan khatak, to head Frontier Corps and continue the legacy of its Punjabi master. Now he has taken the charge of Baloch genocide "as a Pashtun" under the command of Punjabi Gen Ashfaq Kayani
The sole object of changing the command of FC from a Punjabi to a Pashtun mercenary is to exonerate Punjab of its crime ridden record of genocide of Baloch nation, and shifting the blame on a Pashtun military General, whereby Punjabi dominated Pakistani state could justify its use of force against Baloch public in the name of restoring the state writ in the "so called Balochistan province" and implying that Pakistan is a country where all are equally represented.
It was the Khuzdar Cantonment where the Pushtoon mercenary General of Punjab made its first visit when he was appointed as the corps commander of FC in Balochistan. Where he met Mengal and Zehri sardars and then he went to Chaman as a guest of Mahmmod Achakzai, where on record he announced the induction of Pashtuns in Pak army from Pashtun dominated areas of Balochistan, he also said that as Khuzdaar and Quetta districts are with us, other remaining districts cannot make any trouble for us. It is noteworthy to mention here that the land on which the Khuzdar Cantonment is established belong to Zehri and Mengal brothers. It is more than 20 thousand acres land leased to Punjabi military by Mengal and Zehri brothers.
But Baloch resistance has ripped through the order of the tribal societies. Powerful tribes have been reduced into fraternity groups by resistance movement. The recent attacks on two high profile government officials by Baloch resistance forces show that Baloch society is fully controlled by Sarmachars (the freedom fighters). The CM and Governor are chieftains of their respective tribes, But unable to seek their revenge on Baloch resistance movement as it has broken all barrier of tribalism. Baloch Sarmachars, the freedom fighters, have now totally changed the landscape of resistance.
Pakistani state writ in Baluchistan's social life is totally eroded, except the military cantonments and garrisons, where only Punjabi military personnel and with Pushton mercenary armed men are living. They are totally alienated from Baloch society, they have been rendered as estrange objects in Balochistan by Baloch nationalist forces.
Pakistani army personnel without heavy columns of armed vehicles cannot enter into Baluchistan's cities and towns. The constant resistance of 10 years has worn the morale of Pakistan army across Balochistan. Its armed men are suffering from mental illnesses.
Apart from Armed resistance, in general society, people have now refused to pay utility bill, which is costing Pakistan billions of rupees. Without the presence of helicopters and tanks it is utterly an impossible task for Punjab army to make sure that Baloch natural gas is flowing into Punjab's cities and factories from already depleted Gas fields of Balochistan.
Baloch students have refused to be taught Pakistan Study text books in schools, colleges and universities. Reciting Pakistani national anthem in all education institutions and schools in Balochistan is a sin. Pakistani flag can be seen hoisted only on its cantonments and military camps. In place of Pakistani flag, azad Balochistan flag is flying on all schools, colleges, shops and homes across Balochistan.
All provincial and national assembly members from Balochistan have now bought homes in Islamabad and want to leave Balochistan forever, because, they are isolated from Baloch society of general public. They are now called pariah in Baloch society for reasons that they have done nothing for Baloch national struggle for freedom. Instead they are believed to be the collaborators of enemy. Civil courts in Balochistan are deserted, as Baloch have abandoned the hope that their day to day social grievances would be redressed Pakistani courts. All courts in Balochistan are now engaged only with false cases framed against Baloch youths by occupying Punjabi military establishment as a measure of preventing them from the participation of freedom struggle.
However, Pakistani military is putting all blame of Baloch insurgency on India, Afghanistan and Russia; and particularly India is its prime target of the whole blame. But to defend themselves from Pakistani blames, it's appropriate for neighboring countries, particularly for India to send the members of its civil societies to check if there is any Indian involvement in fomenting insurgency in Balochistan or not?